X-Ray 'Higgy-Pig' Stone Wash Burgundy T-Shirt (Organic)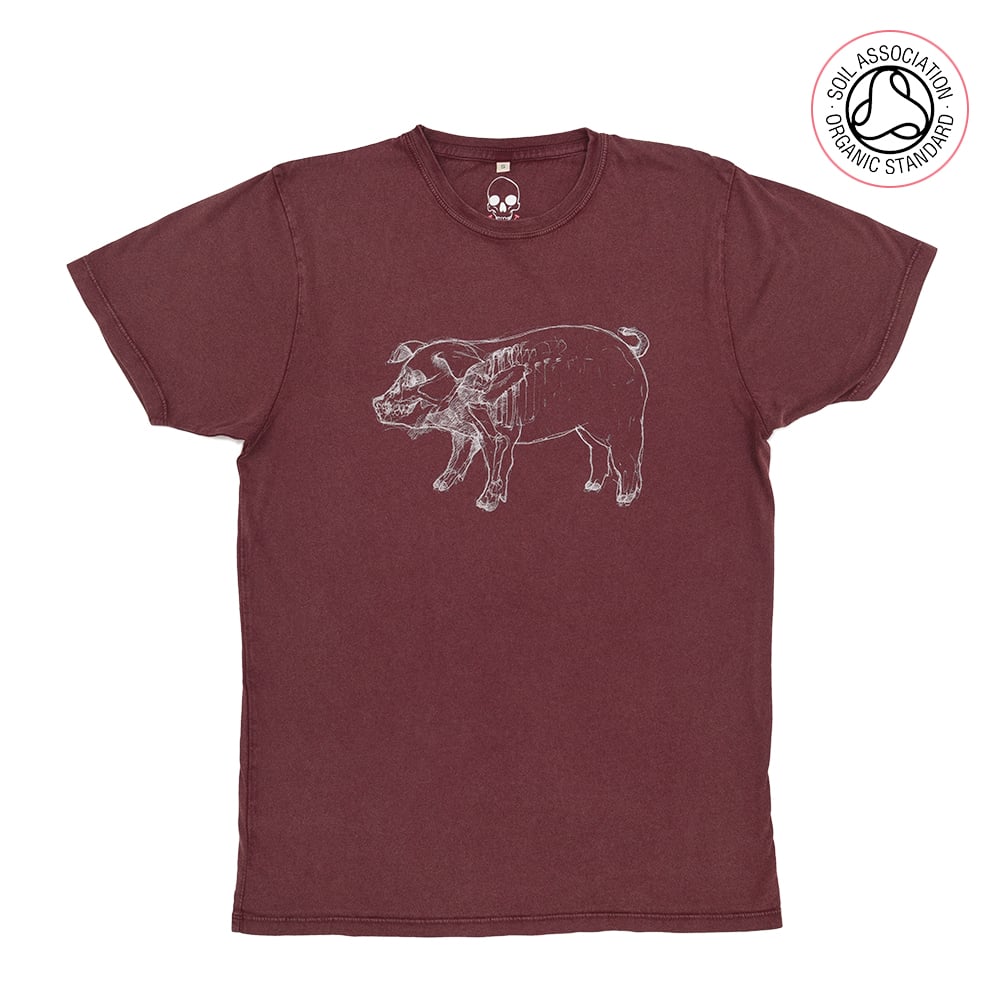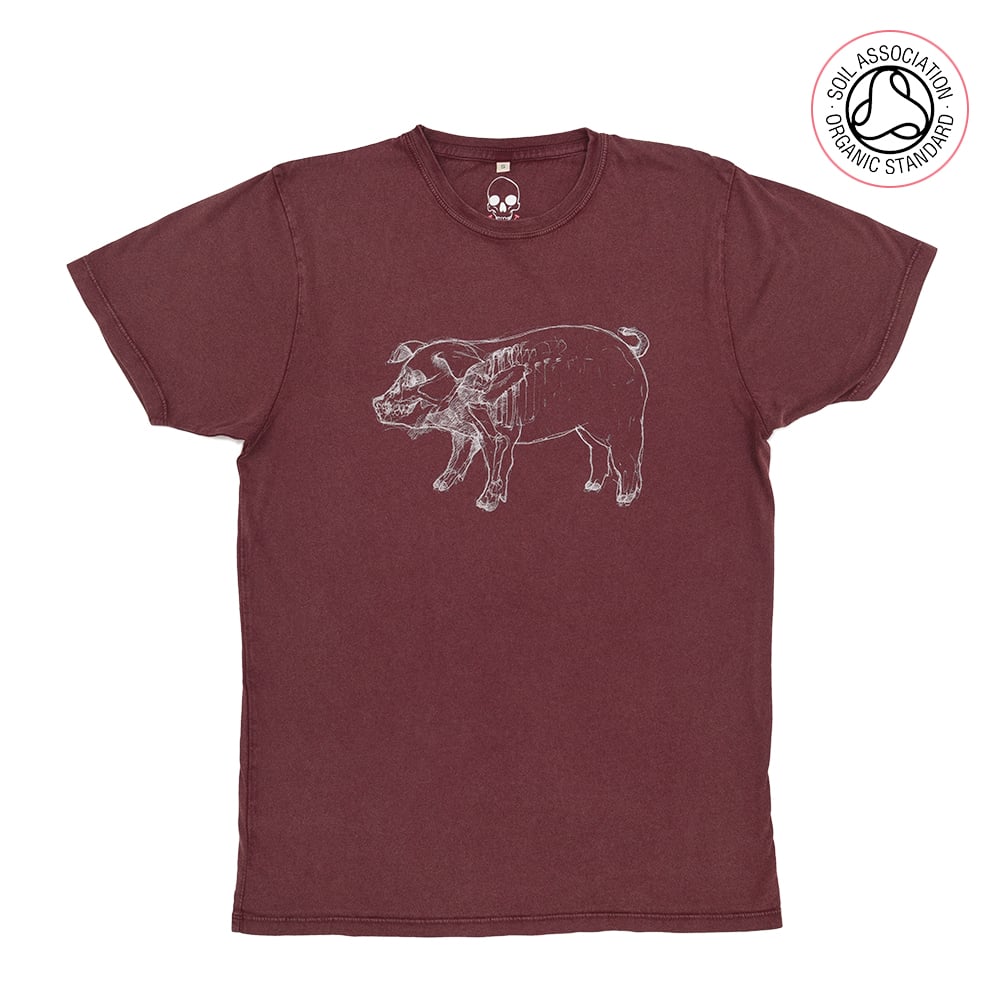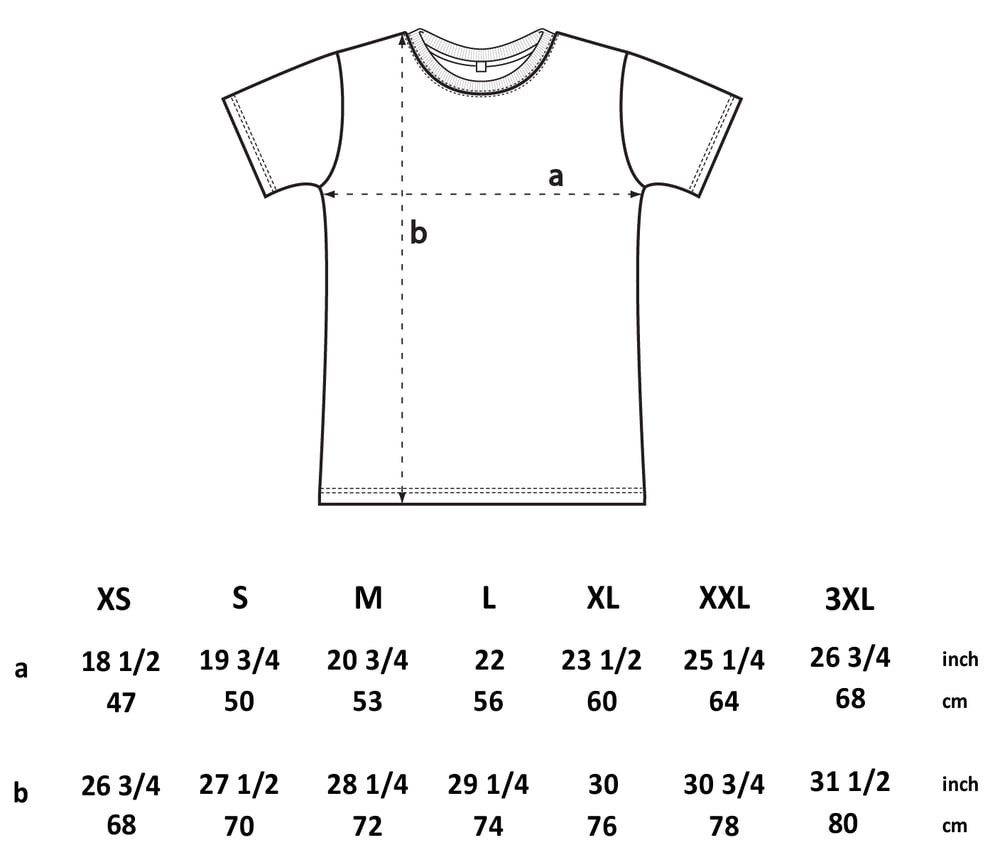 SALE -30% (Was £30 now £21)
Illustration Story: X-Ray Higgy-Piggy - Once upon a time, a little piggy didn't go to the market, they went to the radiographer's lab instead. His Xray turned up, and they have a human skull, weird, I know!
Pigs are reared for our every whim these days, and this clothing item is celebrating the close associates we love to eat. Did you know that some are even being bred for human heart transplants?
Pig hearts are closest in size to that of a human heart. Weird science pushed further, could have other human bits in our little piggy friends, unless we leave them be!
Not by the hair on our chinny chin chins the pigs shouted!
Original illustration for Conquer Gear ® by Tomoya Hiramatsu.
Garment Info:
UNISEX JERSEY T-SHIRT - Climate Neutral® Carbon Reduction!
Jersey: 4.6 oz/ 155g - Combed & 100% Organic Cotton!
Shape & Feel - A roomy and comfortable unisex style T-shirt.
The shape is an excellent fit for either women or men or anyone in-between. Quality Mid-weight 100% cotton weave, so it isn't flimsy, but you won't sweat to death while doing something active either!
This T-shirt is not a tight-fitting item, so we as always strongly recommend checking the sizing chart for dimensions to get the fit you desire.
(Stonewash - The t-shirt gets dyed after being produced. A stonewash process then softens the colour and garment feel, could this fabric get any softer? A process that makes it unique; Every garment has variants and gentle tones of colour differential.)

Ethics;
1.) Water-Based Ink printing - Organic inks, because water should not be polluted to make ethical printed goods.
2.) Earth Positive / Climate Neutral® - 100% Organic Product, with a 90% reduced carbon footprint in manufacturing. It is cutting pollution out thoroughly before it happens, rather than just planting a tree to make up for causing them in the first place.
3.) Fair Wear Foundation - made this way for peace of mind and ethical treatment of people in the garment industry. From start to finish, we don't want to make a garment covered in tears, no matter how rebellious our images are!
All Conquer Gear items are "Illustrated by artists, ethically produced!"